The Broken Barrel Tavern
4700 Babcock Street NE
Palm Bay, FL 32905
Phone: 321.728.4755
http://www.brokenbarreltavern.com/Default.aspx
Much like Tequesta was an unlikely place to find a stellar gastro pub of heavenly proportions, so too is Palm Bay, Florida. Not exactly high on my list of beer destination cities, apparently they are set to prove me wrong. I'm coming to a sudden conclusion that no matter where you live, big or small or somewhere inbetween, good beer begets demand as demand begets good beer. Thirst knows no bounds.
Let's just say that I am glad I didn't follow first impression instincts on this one because, from the outside, it looks like just another whole-in-the wall dumpy dive where inside the smoke billows (well, maybe not so much in Florida…), raunch rules, and the food is something you'd find in a garbage dump behind a fast-food restaurant. Once more, I'm proven wrong.
Stepping inside I am greeted by darkness. Literally. Allowing a few minutes for my eyes to adjust to the doom and gloom, I am met by a spartanly modern décor which screams 'hipster' and only partially succeeding. The walls are painted black with a sponge-style finish, possibly to pimp out the already pimpin flat screen TVs that are showcasing the most current sports specials. Now, don't get me wrong. I'm a huge college football fan and when season starts, you better not get in the way of me, my game, and some tasty glasses of brew. That being said, I feel as if I have wandered into a parallel world of Buffalo Wild Wings meets Brooding Hipster Lounge. I'm kind of digging it, and I'd be digging it even more if I could hear myself think over the ear-drum shattering music. Oy. These ears are precious and need not torment the likes of this. The background music was appropriately eclectic, but it needed to be at least 10 decibels lower, if not more. Now, it should be noted that I stopped by on a Friday afternoon, and not just any afternoon, Labor Day Weekend Friday afternoon. Maybe tis to be expected, but even still, far too loud to be enjoyable.
After wandering around I settled on a table for four because I can, and I didn't feel like taking up a table for six or more along the wall. I'm usually a bar fly stoop kinda beer gal, but all the seats were full so I had to settle for second best. At least I had the massive flat screen TV in front of me to amuse my attentions when needed. The staff deserves huge props because 1)it's obvious they enjoy their work, and 2)they genuinely enjoy their massive beer selection matched by an equally massive menu. Run of the mill menu bar bits are to be found with flair, and the menu just took flight from there. I only got a simple soup and salad, but let me tell you, that meal made my afternoon. Granted, I was starving (the chew marks on the menu are lingering proof) but a picky eater such as I can't and won't settle for just average.
I ordered first a Duchess de Bourgogne on draft (insert me drooling shamelessly) which was served to me, appropriately, in her proper Duchess de Bourgogne chalice. For those of you who haven't supped this Belgian Flemish Sour Brown Ale delight, your life is officially incomplete. After waiting a few minutes for her initial arctic chill to subside, the only unfortunate downfall of draft beer, I proceeded to indulge my naughty side. Exquisite. Definitely fresh and well within her prime. As the Duchess and I made sweet love, I scoured the menu for something filling yet not heavy. I had a long night ahead which involved more food and more drink, albeit at a different locale, so I wanted to munch appropriately. Many menu items lusted for my attention, but after being unable to decide between the Chicken Chili or a Fresh Greens Salad, deliverance came unto me as a Soup & Salad offering. Voila!
Now, what dressing to have on top of my salad… Locking lips once more with the Duchess, my eyes wonder down to the only possible option: raspberry Lambic vinaigrette. Oh be still my beating heart. Supping gently, I peruse a couple games on the TVs, pro football unfortunately, as I await the arrival of my soup and salad. Ok, technically chicken chili, but who wants to be a prude. My late lunch arrives, and I scope out my chili topped with fresh onion slices and my salad composed of the finest quality greens: spinach and romaine topped with cherry tomatoes, whole rings of red onion, and my side of appropriately rose-tinged raspberry Lambic vinaigrette. Drizzling said dressing atop my salad, I crunch into her fresh greens…and time stops. Grabbing another bite, I sup once more upon my chalice of Duchess of Bourgogne. Heavenly... So this is what it feels like when one finally has THE beer+food moment. It is immediately clear to me now that the Duchess simply won't do for my Chicken Chili, but that is a dilemma for later. Each quaff and bite further clarifies the righteousness of my choice. I could do this pairing a million times over and never grow tired. They play perfectly off each other, and sooner than I desired, both vessels of nirvana lie empty. That's ok, I still have my Chicken Chili, but the question remains: to what beer shall I pair thee?
I needed a beer that was rich and hearty with enough spice, dark sweetness, and a little bit of smoke to compliment the soul-soothing nature of good chili. I had spotted the Schlenkerla Marzen during my perusal of the beer menu, but their single bottle price is more than I am willing to pay. Being in the retail trade of beer, wine, and spirits, I know what I can and do sell that particular beer for in my store. That being said, one should always expect a 200-300% markup on beer bottles in a restaurant.
My savior came all the way from California: the Stone Smoked Porter. I've supped her subtly smoked dark depths from the bottle, but never on draft. Sold! My waiter leaves, and I simply bask in the afterglow of my ravaging tryst with the Duchess and raspberry Lambic vinaigrette salad. Sooner than later, there is a large bowled snifter half-full with Stone Smoked Porter before me. As I take my first sip, I realize my only mistake of this otherwise exemplary afternoon: she's too cold, and lest I wait long enough for her to warm to proper supping temperature, I'll be looking at dull and listless chili long past her point of snarfing. I compromise by cupping her bulbous depths in my hands, alternating every so often to bring her closer to my body temp. Satisfied, I grab a hearty spoonful of my chili and enjoy. Wonderful. If I didn't know beforehand that the chili used ground chicken instead of beef, I would never have guessed. She covers all the chili bases I personally prefer: ground chicken, beans, onion, spices, a slightly sweet base rich with mesquite and finishing with gentle spicy warmth. Washing down my chicken chili is the Stone Smoked Porter and never a better second marriage of beer+food could be found. At this point, let's just say I let self-indulgence take over and the chili was soon gone while I supped long on the Stone Smoked Porter.
I get it. I finally get it. That being said, beer+food pairing isn't something I am inclined to do all the time. I am sure there will be many more occasions where I purposely enjoy the two together in the best affair possible. So too will I sup separately many more a tasty brew and snarf a tasty meal.
So how did The Broken Barrel Tavern fair? I'd put it right in the middle. I'm not all that fond of loud music and an overly dark social environment. I can adapt to the darkness, but the eardrum shattering music needs some tweaking. I give fair warning again that when you first enter, leave yourself a good 5 minutes to adjust to the gloom. That's not to say the atmosphere is gloomy; the opposite, everyone I observed there seemed to be indulging themselves most jubilantly both by themselves and in good company. The staff was honest, friendly, and helpful. My waiter sat and chatted more times than I can remember, a nice bonus.
Would I go back again? Yes, but probably not on a Friday or Saturday, holiday weekend notwithstanding.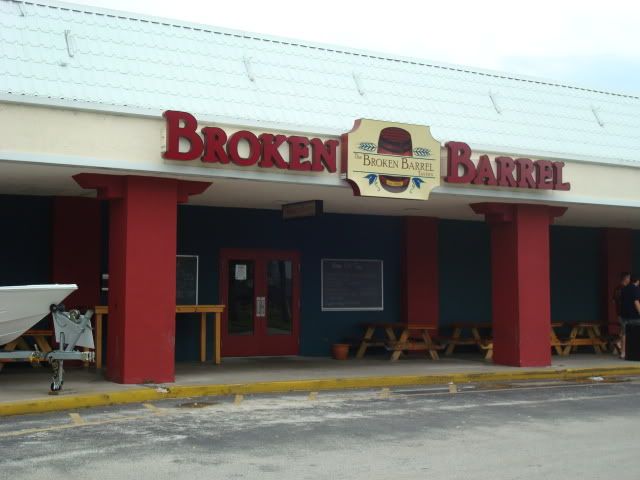 (original written work by Kristyn Lier. plagiarism is not tolerated)