Florida is nowhere near the artisanal beer wasteland that it was just a few years ago, but there is still one arena in which Florida has yet to truly make a showing: the brewpub.
That's not to say there are zero brewpubs to be found in Florida, but they are few, far between, and separated by miles of lonely asphalt. On the opposite end of the spectrum, there are towns, cities, and states galore where one is literally tripping over the mind-boggling volume and diversity of brewpubs. As far as the eye can see, brewpubs beckon with the promise of fresh tasty brews and fresh tasty morsels to savor separately or together. The choice is yours.
My last brewpub experience had been years past, and I feared a still long, lonely, dry road ahead. Thankfully, I was wrong. Just last month I found myself standing before a gleaming oasis of brewpub delights: the Rock Bottom Restaurant and Brewery in Chicago, Illinois. It was a Friday night, and I was looking to test my beer tasting mettle. My growing backlog of tasting notes ala reviews was neither a concern nor a deterrent. Where there is good beer to be drunk, I will be there.
Being a Friday night in Chicago, Illinois at a popular brewpub, I reserved no delusions of having Rock Bottom all to myself. Instead, I was feeling the social itch and, even more so, the need to scratch my brewpub itch for which there is only one cure: good in-house crafted beers and food to match. An added bonus was their oh-so-convenient location just one block away from my hotel.
Stepping through their double doors, it took me a moment to gather my bearings. This particular location is huge, spanning more than half the block with an additional two-story rise above the ground floor. Of course, this is to be expected seeing as they brew all their beer in-house in a volume to impress the thirstiest palate. Gleaming copper kettles and tanks within a serpentine network of pipes keep watch behind scattered glass partitions over all who dared enter their domain.
Weaving my way in, out, and through jovial throngs and bustling staff in a foolish search for a bar stoop, I wisely headed back to the hostess who kindly sat me at a table situated in the middle of their main dining area. During my brief wait to be seated, I scoped out their limited t-shirt selection. Nothing screamed "Buy me!" which just meant I had all that more money to spend on beer, maybe some food.
Their food menu was huge, but I was on a beery mission of epic tasting proportions so I followed my desires straight to the large sampler. How large? It wasn't listed, but I know better; Rock Bottom is a brewpub and any brewpub worth their wort has at least one sampler option, sometimes more. My waiter was a friendly and charming chap who blinked not an eye when I placed said order. Along with giving me an initial run-through of each beer, we chatted off and on about beer the entirety of my stay.
My sampler? It was 9 tasting glasses 5ozs in size. My waiter even threw in two additional glasses of special Rock Bottom beers, bringing my tasting epic to a total of 11 different beers.
Life is short. Drink good beer.
And so I did.
With beer before me, I set about choosing a tasty morsel to nibble on from the appetizer section. Their Firecracker Shrimp arrived in no time flat, piping hot both in temperature and in spice. Uh-oh. I don't tolerate spicy food very well anymore, not to mention the damage it would do to my eager beer-tasting tastebuds. They weren't volcanic hot, but more than what I was expecting. If only they hadn't been so damn tasty, I might have ordered something else. Putting my beery exploits on a temporary hold, I polished off the Firecracker Shrimp along with a few glasses of water. They were good though...
On the flip side, the brief intermission gave my beers just the right amount of time to achieve optimum tasting temperature. With food in my belly and tastebuds wholly recovered, I reverted my attentions back to the true mission at hand: beer.
The tasting highlight? I popped my cask ale cherry. That's right ladies and gentleman, I wrapped my mouth around the first cask ale to ever pass these eager lips that fateful night on Friday, September 11th 2009 at the Rock Bottom Restaurant and Brewery in Chicago, Illinois.
Even though I know of cask ale, the first sip was still a shock to my system. The lack of overzealous carbonation and silky smooth mouthfeel quickly revealed her sensuous curves, sultry flavors, and euphoric aroma to my lustful desires. She was a night to remember always.
After thwarting a misinformed attempt to steal my unattended tasters while visiting the restroom, I resumed my unabashed self-indulgence of beer bliss. Relishing the last of my tasters (always save the best for last), I reflected on my conquests and concluded victory was indeed mine. All the beers were good, but there were a few that stood out as excellent: Redline Bourbon Imperial Stout and, unquestionably, the Cask Conditioned Chicago Gold.
Ironically, as I revelled in the glow of another fine brewpub experience, my stomach rumbled in hungry protest at about the same time my body informed me it was time for pjs. Studying the menu once more, I landed upon the Bourbonzola Burger (mm... bourbon) which was ordered to go.
My Bourbonzola Burger arrived prompt and piping hot, the ripe odors of funky blue cheese steeped in bourbon while dripping succulent meat juices whispered sweet nothings in my ear. Check please! Out the door I went for a short stroll in the mild night air back to my hotel and awaiting pjs. Grabbing a beer from the fridge (what else better to accompany a damn tasty burger), the night slipped away as I eventually settled into bed sated and satisfied.
Rock Bottom Restaurant and Brewery was exactly what I wanted out of a long overdue brewpub session. The food covered all the bases from standard to stellar and the beers were all solid performers. I will definitely revisit Rock Bottom next time I am in Chicago, though I may just schedule our date earlier so I can settle in for many a lazy long drink at the bar.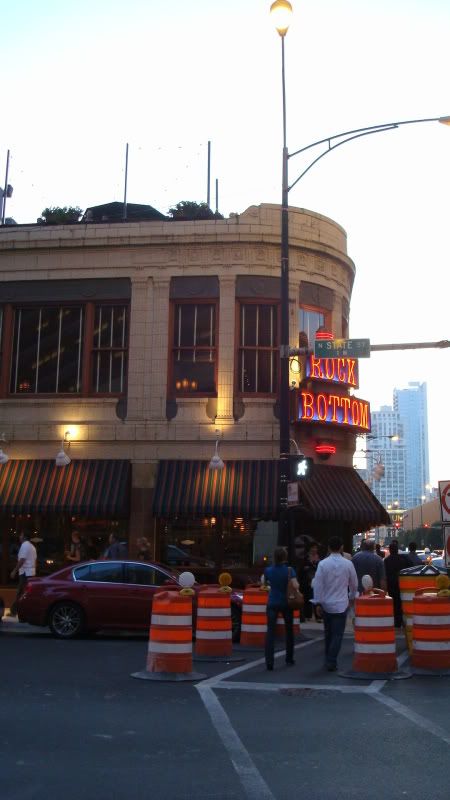 (an original written work by Kristyn Lier. plagiarism is not tolerated)