Sui Generis, which is #2 in our new Barrel-Aged Series, will debut at the Avery Tap Room on Wednesday, September 23rd from 3-8 PM. Due to extremely limited quantities of this brew.



This free event will feature President/Brewmaster Adam Avery on hand in the barrel-aging room signing a limited number of bottles and answering questions on Sui Generis and other upcoming installments in the Barrel-Aged Series.





Those who attend will have the opportunity to see firsthand the beers that will be coming next in our Barrel Aged Series. Since we have such limited quantities of this brew, it will not be on tap at the Release Party. Those attending will have the opportunity to purchase up to 6 bottles of Sui Generis and purchase pints or tasters of other Avery brews pouring from our 12 taps.





Tasting Notes:




Sui Generis is a complex ale, aged and artfully blended from several types of oak barrels, and displays a delightful lactic sourness complimented by hints of brett, oak, and acetic. Intricate yet bold, deeply complex yet surprisingly refreshing, Sui Generis was crafted in the tradition of perennial Tap Room favorites De Vogelbekdieren and Voltron.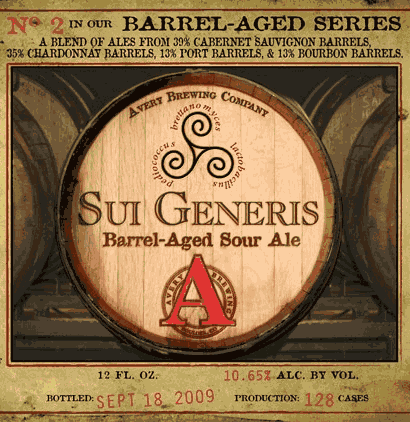 *first in the series was the Avery Brabant which, if you are lucky, may still be found lurking on the shelves in some liquor stores*