Appearance: touch of chill haze gives a glow to aged copper and peach skin hues. Off-white head fades fast, leaving a bubbly collar and broken foam in its wake.
Nose: apricots, apple sauce, apple turnover cake. Flambéed peaches and honey. Nutmeg first followed by cinnamon sticks. Apple skins and whole grain bread crust.
Palate: clean and to the point. Sweet and mildly chewy up front with peaches and apple flesh followed by the skins for a lingering touch of refreshing bitterness. Nutmeg and cinnamon in the breath. Sun-dried golden raisins in the middle. Dryness of straw and hay underneath, adding to the overall bitter profile. Apple seeds. Very subtle caramel and honeycomb sweetness flits along the edges.
Final Thoughts: another sessionable quaffable flavorful addition to my tasting repertoire from the inspirational genius that is Cigar City Brewing. While bold and beautiful is a steady mantra, so too is subtle and sophisticated. Bravo! England would be proud.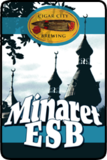 (an original written work by Kristyn Lier. plagiarism is not tolerated)