I've been a fan of Kevin and his bastion of smoky BBQ delights, Broken Barrel Tavern, for two years now even if I wasn't there for the very beginning. A newly remodeled strip mall on the corner of Babcock and Palm Bay Boulevard isn't exactly what some would consider prime retail for artisanal beer, food, and spirit exploration. They would be wrong! A funny thing about expectations – they are made to be broken repeatedly, successfully, and tastefully.
Chilling at the bar for a few were yours beerly and her Lovely Laura. As the festivities rocked all around us, we scoped out the killer draft line-up ranging from the Avery Maharaja to Widmer Brrrrbon. Arriving around 7pm, the Avery Maharaja was already drained while other tapped offerings included Cuvee Alex La Rouge, De Dolle Oerbier, Dogfish Head Namaste, Great Divide 17th Anniversary, Harvieston Bitter & Twisted, Kasteel Rouge, Ommegang Gnomegang, Sierra Nevada Ovila Dubbel, and tapped right before our eager eyes, the Stone Smoked Porter with Chipotle Peppers.
Chipotle Peppers – drank em and love em.
Heat and I don't get along very well and the Stone Smoked Porter with Chipotle Peppers from Stone had HEAT. Yowza! With our tastebuds a-tingle, Laura and I had set sights on the Barrel's smoky spicy dry-rubbed St. Lois ribs but alas, we were too late. A mad dash on ribs early in the Anniversary celebrations had emptied Barrel's fresh reserves for the day. Yes, they really are THAT GOOD. Our beer and food pairing intentions were crushed, but that's okay because there is always next time. Keeping our bellies full in the meantime were the funkalicious blue cheese chips. Blue cheese melted and chunked atop crisp house chips along with roasted red pepper niblets for finger-licking lip-smacking enjoyment.
Always on the hunt for new beers to explore in contemplative savorance, I tasted my way through the Dogfish Head Namaste, De Dolle Oerbier, and finished with the aforementioned chipotle pepper infused Smoked Porter. An inspirational procession of flavors, they took me from Rehobeth Beach to the landlocked Burgundian pleasures of Belgium and all the way back to Escondido, California, home of my Love's favorite brewery – Stone. Yum, Yum, and yum!
We didn't win anything with our generous stash of raffle tickets despite our best drinking and eating intentions but it was fun trying. As night crept and we made our way home, I reflect on lessons and blessings. Having a family irrevocably changes one's perspective priorities and I wouldn't have it any other way. Home is where the heart is and the heart is home, forever and always.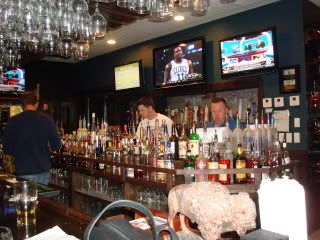 (an original written work by Kristyn Lier. plagiarism is not tolerated)