Appearance: murky mahogany; dusty and faded with time. Solid off-white head and thick collar. Swirls decent.
Nose: plums and raisins. Very Belgian – the yeast strain is definitely assertive to the point of dominating. Dark fruits, raisiny breads (like a dubbel) with whispers of spice and toast in the back. Stewed dark fruits – dates and figs. Flambéed plantains with nutmeg and cinnamon. Maraschino cherries.
Palate: a sharp tang in grabs the back of throat with spice (cumin), twigs, and a dry olden woodiness. Plum skins. Sweet along the edges. Chewy and full with dried dates, figs, and prunes. Leather lingers long atop the tongue. Dried tobacco. Plum and grape skins add to the tannic leather twiggy bitterness.
Final Thoughts: intriguing. Even after my last quaff I wasn't quite sure what to think of the Belgo-Barley Wine from Stone. Their Old Guardian is an outstanding barleywine and, I think that this beer too is outstanding, albeit in no relation to the original. There could be two beers no more different than these two, and it's all about the yeast.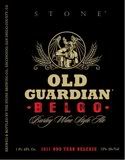 (an original written work by Kristyn Lier. plagiarism is not tolerated)